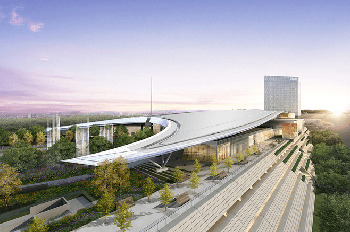 MGM Resorts has a number of outstanding hotel and casinos in development all over the world. A new development in the Washington, D.C. region is currently in the works. Recently, the corporation revealed its plans and designs. The information made known to the public shows that MGM Resorts new endeavor, the MGM National Harbor project, is going to be a very impressive casino. The building will be home to 74 suites and the massive venture is budgeted to cost $1.3 billion.
When completed, this could prove to be one of the most impressive casino resorts in the northeast outside of the Atlantic City ones. This casino won't be located in Washington, D.C., but will be in the neighboring state of Maryland. Travelers from D.C., Maryland, and Virginia would have the quickest and easiest access to the casino. Surely, once completed, there will be a major advertising push far outside of the local geographic area. MGM Resorts definitely wants to draw in as many tourists and travelers from around the country if not the world. The resort may end up being extremely successful if it delivers on all promises.
Washington, D.C. is an epicenter for a lot of leisure, business, and geopolitical travel. The new casino would absolutely be attractive to those tourists and travels to D.C. hoping to do spend a little time at a gaming resort. Even a one-night quick trip to the casino could prove to be a lot of fun. MGM Resorts is soon to provide for these excursions.
The casino is going to open in the final months of 2016, which would allow the casino to take advantage of the holiday tourism. Granted, there is sure to be a drop in the winter, a cruel season in the northeast. Spring time should bring a rebound, which would last nicely into the rest of the year.
There is a tremendous number of excellent hotels in this particular part of the United States. MGM Resorts' management understands that a lot of work has to be done to make impressive accommodations in order to live up to the high standards. Based on new reports, an incredible amount of design skill has gone into crafting some truly brilliant suites.
A top New York-based design firm, GAIA, is behind all the design planning and execution. GAIA's designers came up with some innovative ideas, but stayed true to recommendations made by MGM Resorts. The management of MGM Resorts has an idea of what its hotels should look like, but knows they all have to be different and unique to a degree.
Ultimately, the finished product is sure to stay true to what people expects from MGM Resorts. Look for the MGM National Harbor Hotel & Resort to be a huge hit.