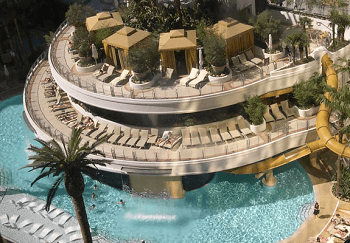 Summer in Mississippi just got better. The Golden Nugget Casino may just have invented the 4-day weekend. There is no better way to relax than to party with friends and strangers dressed in swimsuits and sipping some of the tastiest drinks on the Gulf Coast. If you have made it past hump day and are looking for a good place to get rid of your stress, relax, and play, you've got to check out the Thursday Adult Swim pool parties at the Golden Nugget Casino in Mississippi. According to Scott King, Vice President of Marketing for the Golden Nugget, this is just the beginning. The casino hotel may soon have an outdoor nightclub.
Mississippi's Golden Nugget Casino has long been known as a great place to go when you want to have some fun. There is more than enough casino gaming, great food, tasty, exotic drinks, wonderful music, dancing, and swimming to keep visitors thoroughly entertained for days on end. Now comes word the Mississippi based casino will now feature Adult Swim Parties every Thursday until Labor Day. That means as the weather warms up, people can start their weekend early by heading to the casino at midweek to splash around in their amazing pool and have fun with people who know how to party.
If you are over age 21 and want to have fun, simply visit the Mississippi casino's famous H2O swimming pool. Guest at the casino hotel will be given free passes that will enable them to participate in the event. However, even if you are not a guest at the hotel, you can still join the fun at the pool parties. People who do not have a room at the hotel can simply pay a $10 entrance fee and join in on the festivities. Adult Swim could end up making Thursdays the most exciting night of the week. When you combine great music, fantastic food, excellent drinks, a large, beautiful pool, and a festive atmosphere, you have the perfect recipe for having a good time.
For these Thursday shindigs people can wear their swimsuits, splash around in the refreshing pool, sip cocktails at the swim up bar, and enjoy the music. They can also rent a cabana, lounge in the shade, enjoy their favorite adult beverage and dance to their hearts content. Plus, there will be outdoor Blackjack tables where people can enjoy a little gaming activity while mixing, mingling, and having a great time while the DJ plays music that creates a party atmosphere. Thursdays may just become many people's new favorite day of the week after they have experience Adult Swim at The Golden Nugget Casino.
The Golden Nugget had formerly hosted a wildly popular event at the H2O pool that was called Hydrate. That event featured live bands. Now with DJs playing the music the party can keep going all weekend long. When Adult Swim ends at 11pm, the party moves to the Rush Lounge which features music by DJ Rico.