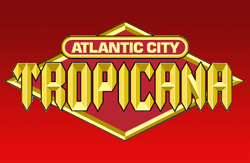 Tropicana Casino & Resort is a well-known place in Atlantic City. But, the city's fortunes have turned down in recent years. That directly affects casinos. There used to be twelve casinos in this southern New Jersey town, now there are only eight left.
There are couple of things that affected Atlantic City's fortunes. First, casinos were opened in nearby states. Second, many gamblers do some betting online. So, no wonder Tropicana is seeking to enter the online and mobile gambling space.  According to the latest industry news, Tropicana is teaming up with NetEnt to provide online gambling. NetEnt is recognized as one of the top gambling software companies and its games already power many online casinos.
The company has already developed more than 100 online games. These aren't just limited to slots. Such traditional casino games as blackjack, roulette, craps, baccarat, and even keno are part of the package. Nowadays, at many quality online casinos multiple versions of these games are on the offer.
Nowadays, an online or mobile player can access hundreds of slot games, multiple versions of poker (including video poker, live casino dealings online, and poker tournaments), ten or more versions of blackjack, several types of roulette (American, French, European), and many other games. Even online scratch cards are now sold.
Many of these games come with rich graphics and sounds. Online roulette or blackjack tables look like those at traditional casinos, even though they're digital. With live dealer betting, and via tournament participation, players get to interact with each other in real time.
No wonder these developments worry traditional casinos. Now, in response to these industry developments, Tropicana is looking to open its own online casino. What is still not known is whether Tropicana will use other gambling software providers, which isn't so uncommon when it comes to digital casinos.
Some of the top players in this software segment are Playtech, Nextgen, Microgaming, and IGT. Playtech is known for Marvel slots and baccarat. Nextgen alone has more than 300 different slot games, while Microgaming offers more than 600 online games of various kinds. The last company, IGT, specializes in slot games- whether online or actual machines the land-based casinos utilize.
If Tropicana's online casino concentrates on only one provider, then its offer may not be as competitive as that of some other Internet-based casinos. On the other hand, Tropicana knows what gambling is all about. Its Atlantic City casino has 170 table games and 27 poker tables- all in addition to slots.
What is interesting is how the industry trends develop. If more traditional casinos go online, will that profoundly change the industry? Customers will still travel to traditional casinos. It's not only about betting, but general ambiance. Players like to see others around, while casinos like Tropicana provide many amenities at their resorts.