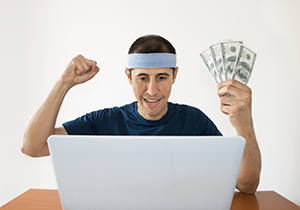 Online betting is the single greatest innovation in accessibility to betting, blazing a powerful trail in an already massive industry. The age of long-distance travel to highly populated cities to visit casinos is over, as are the days of dealing with sketchy bookkeepers to make a simple sports bet. The internet has modernized betting, allowing it to lose its original stigma while gaining a sleek new appearance as a game of statistical analysis and wit just as much as odds.
A recent innovation from bettingexperts seeks to take the next step in streamlining and statistical analysis of sports betting by creating a fluid and intuitive interface for users of any level of technological expertise. The new website, SmartBets, is poised to take the online football betting community by storm as it includes all of the popular betting operators and allows for simple, one-click betting right from SmartBets. Furthermore, SmartBets is customizable and will display the best bets for the individual user, compared across betting and brokerage services.
SmartBets takes the anxiety out of the betting process by ensuring that one is always aware of bets across the various top bookmaking sites as well as the odds thereof. This lets users sit in the comfort of their home knowing that they will always be able to acquire the best bet. The all-inclusive website supplies further peace of mind as it is the only application that is needed for fully functional betting in the vast and exciting game of football, freeing up time for clients that cannot afford to commit hours to browsing the web in search of a good bet. SmartBets even notifies the user with live updates regarding game conditions and scores in case one cannot access the game. As if that wasn't enough, SmartBets ensures that the customer is always in the loop with live support ready around the clock. Not only is this plethora of features a robust security blanket, it is a sign of quality customer care and an excellent indicator of the ethically positive culture at bettingexperts.
While the functionality of SmartBets is absolutely impeccable, one might worry that SmartBets takes away from the betting experience by stripping any human touch from sight. Luckily bettingexperts opened the gate of original blog content and provide betting advice from some of SmartBet's most robust minds, which couples the atmosphere of functionality with captivating supplementary content, giving the betting website its own culture and natural feel.
However, SmartBets has a unique opportunity with a step up on the competition. Bettingexperts has announced that SmartBets will soon support different sports sets for more betting opportunities. SmartBets is in line to become the one stop online and mobile platform for efficiency enhanced multi-sport betting.