The problem that arises is that Stake casino offers several games from game development companies that are under the umbrella of a UK Gambling License.  Those developers also provide their games to companies that are highly restricted by the UK Gambling license in terms of proper KYC and are responsible for the actions of affiliates and the activities of 3rd party partners. So, a casino company following the rules in the United Kingdom could be fined if they didn't verify your identity or even do an age check. A game provider would most likely have to postpone business with that casino until the issue was resolved.
Issues with Stake.com
No age verification.
Players can deposit, withdraw, and receive promotions and VIP promotions with no KYC (Know Your Customer).
Accepts players from any region if their VPN works.
Completely skirts GAMSTOP by accepting any player with a VPN.
Cannot even enforce their own player protections for self-exclusion because players can just open another account.
Stake UK License
Stake.com is not licensed in the U.K. so the UK Gambling Commission rules don't necessarily apply. However, Stake has made arrangements to provide game services to the UK under a white-label license from TGP Europe Limited, at stake.uk.com. Not entirely sure what "safer gaming" means, but that's plastered across the welcome page. Safe gambling, safe gaming are oxymorons. While that message probably refers to protections for players, please remember that all forms of gambling are open to financial risk.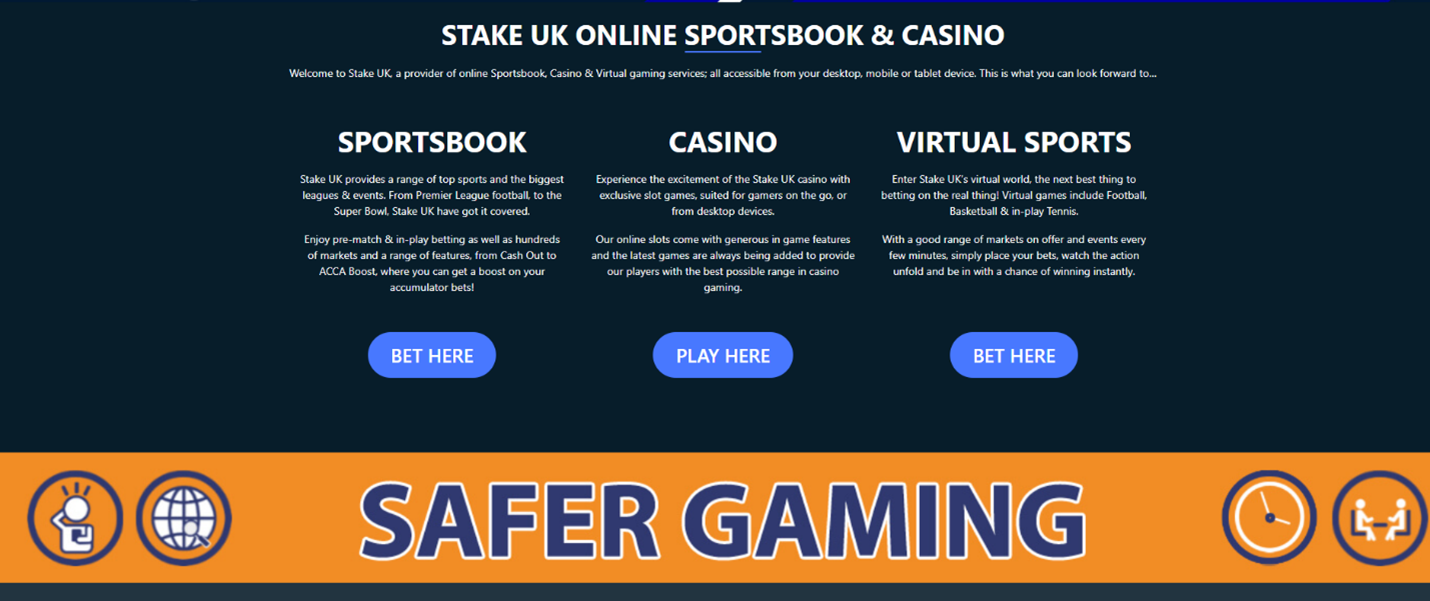 What the UK Gambling Commission Says About Game Developer Licenses
The Tenets of the UK Gambling Commission for Social Responsibility are:
that crime should be kept out of gambling
it should be conducted in a fair and open way
children and other vulnerable persons should be protected from harm or exploitation from gambling.
SOCIAL RESPONSIBILITY CODE
Compliance with these is a condition of licences; therefore any breach of them by an operator may lead the Commission to review the operator's licence with a view to suspension, revocation or the imposition of a financial penalty and would also expose the operator to the risk of prosecution.
Licensees are responsible for the actions of third parties with whom they contract for the provision of any aspect of the licensee's business related to the licensed activities.
Licensees must ensure that the terms on which they contract with such third parties:

require the third party to conduct themselves in so far as they carry out activities on behalf of the licensee as if they were bound by the same licence conditions and subject to the same codes of practice as the licensee
oblige the third party to provide such information to the licensee as they may reasonably require in order to enable the licensee to comply with their information reporting and other obligations to the Commission
enable the licensee, subject to compliance with any dispute resolution provisions of such contract, to terminate the third party's contract promptly if, in the licensee's reasonable opinion, the third party is in breach of contract (including in particular terms included pursuant to this code provision) or has otherwise acted in a manner which is inconsistent with the licensing objectives, including for affiliates where they have breached a relevant advertising code of practice."
So even just under the social responsibility section of the UK Gambling Commission, any UK-licensed gaming company that provides games to a company that openly permits the possibility of vulnerable persons or children on one of their platforms would seem to be acting unfairly.
Some of the Game Companies Providing Games to Stake.com
Pragmatic Play
Relax Gaming
Evolution
No Limit City
Push Gaming
Yggdrasil Gaming
Evolution Sweden Trading as NetEnt
Player Protection at Stake.com
Virtually none. Even if you self-exclude and they lock your account, you can always just make a new account at Stake.com. There are also a number of mirror sites such as Stake.games to bypass a lock. Creating an account puts you at tier 1 of what they call KYC. There's no phone verification, no real verification at all. At this level, you can play as much as you want. Additional levels of verification are incentivized by the casino with higher percentages of Rakeback and bonuses. The casino accepts crypto, and most exchanges have KYC, but Stake.com also accepts MasterCard, Apple Pay, Google Pay and Samsung Pay.
Following the Rules
Stake.com is probably following the rules of their Curacao license, but the unfair practice really comes from UK-licensed game developers. This isn't a huge secret. Using a VPN to access Stake is clearly all over the internet and has even been broadcast on Twitch. That would make it public knowledge. The game companies dealing with a casino that offers no player protection and is not under the UK Gambling Commission License may not receive fines, it would seem they are not following fair social practices.
So, are game companies being unfair to casinos playing by the rules? Maybe. Stake following their licenses? Probably. The entire thing sketchy and inappropriate? I think so.
The UK Gambling Commission responded to our request regarding our questions:
"I understand you would like information regarding game development companies.here. This includes all the rules that operators must follow, including sections specifically for gambling software operators. Our role as regulator is to ensure that gambling businesses are adhering to the regulations that are in place. We take all matters raised to us seriously and all contact we receive from consumers is recorded against the gambling businesses.
The LCCP (Licence Conditions & Codes of Practice) that all licensed business must adhere to can be found on our website 
…
F McCannGAMBLING COMMISSION"
Contact Team Advise
Additional
So, what's the millions of dollars fix here? Stake.com could up their KYC Tier one to requiring a phone number, maybe even some real age verification just like everyone else with a UK license must perform. While that's not really on Stake, it would make it less problematic for the licensed game providers.
Stake.com is partnered with Drake, UFC, Everton, and Watford.