Updated October 1, 2023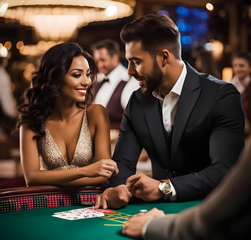 Many experienced players know there is a big difference between blackjack and pretty much all other games you come across in a casino. While the level of control you have in games such as baccarat or roulette is almost non-existent, your decisions at a blackjack table matter a lot.
Knowing the optimal strategy for the game is a big piece of the puzzle. If you know when to stand, when to hit, and when to split, you will have much bigger chances of winning then someone who's just doing it randomly.
However, the basic strategy isn't enough to make you a winner. You'll still have a negative expectation even if the house edge is significantly reduced.
That said, there is a way to actually turn the tables and gain an edge over the house in blackjack. The strategy is known as card counting. You've probably seen it mentioned in movies at the very least and there are many great resources that explain how different card counting strategies work.
Without going into too much detail about individual strategies, the fact of the matter is that they work. Many competent gamblers have managed to take handsome amounts of money from casinos all over the globe using them. That's why card counters are not welcome in any land-based casino even if the strategy itself isn't illegal. They'll just kindly ask you to leave and never come back.
But what about online casinos? Since there are so many out there, a good card counter could make heaps of money switching between the sites even if some of the catch up and prevent them from playing blackjack. Can you count cards at online blackjack tables?
Card Counting Is Useless in Electronic Games
If you were to try and apply even the most sophisticated card counting strategy to an electronic blackjack table, you'd quickly come to realize it's not helping. No matter how good of a counter you are and how much you focus, you won't be able to beat the house.
As to why this is so, the answer is quite simple.
Electronic tables don't use a real shoe. Every time a hand is finished, the random number generator will start with the full virtual "shoe". So, those cards that wouldn't be in the mix at an actual table are back in.
In an 8-deck shoe, there are 416 cards to begin with and the number decreases with every hand played. So, you can count cards and make adjustments based on the number of favorable cards still remaining in the shoe. But, with a virtual table, every hand starts with 416 cards so there is no point to counting.
Live Dealer Blackjack
Live dealer blackjack games are different because they're much more similar to the ones found in brick and mortar casinos. The dealer actually uses real cards and a real shoe and those cards that are dealt are removed from the play.
So, in theory, card counting isn't completely useless.
The problem is, unlike real venues, online live casinos tend to switch their shoes much more frequently. Penetration is key to making any card counting strategy work and if they constantly remove the shoe after not even getting half way through, you won't get much use from the information.
Sure, on a lucky occasion and with some specific runs, you could maybe have a very short run of cards where you'd have a small theoretical advantage. However, these occurrences are so infrequent and so short that the edge you might realize is rendered useless.
Don't Be Tricked by False "Strategies"
Despite all of this, there are still sites that claim that counting cards online will somehow help you beat the house. You shouldn't believe this and if you understand how card counting works, it's pretty easy to understand why.
Playing according to the basic strategy is still very important, though. Online blackjack is still the same game with the same rules so you'll need to observe some fundamental rules to make sure you're losing as little as possible every session.
That said, don't waste your money or energy trying to count cards. It just doesn't work and there is no reason to lose a lot of money to learn the lesson. Have fun, enjoy the game, and practice good bankroll management but don't buy into the fairy tale that online blackjack can somehow be beaten. It just can't.