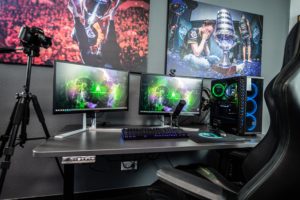 Recently, one of the world's most reputable operators Betway has announced a global partnership with G2 Esports. This partnership will mark the start of a relationship that is designed to create a range of fan-based experiences as well as numerous opportunities for the esports community.
Esports has been on the rise in recent period and not only are millions of people participating in esports tournaments but there are also many of those who are open to placing bets on the match-ups. Both Betway and G2 Esports are well aware of this fact which is why they will make sure that loyal fans are provided with live streams, video content, giveaway opportunities, fan activations, and much more.
Who Are G2 Esports
G2 is a leading brand in the world of esports. It was launched back in 2015 by Carlos Rodriguez, nicknamed Ocelote, and Jens Hilgers. The goal of this organization is simple – they want to bring the best players into one environment.
Thanks to the fact that their staff has several decades of working experience in the sphere, it was able to elevate the company to the highest levels in the business and esports industry. One of the top priorities at G2 is to create an atmosphere where players can have fun and work together. As they like to say – players are the face of the company, which is why G2 shows a lot of attention and loyalty to the members.
Some of the tournaments that G2 covers include matches in Apex: Legends, League of Legends, CS: GO, Valorant, Creators, Rockey League, Fortnite, and Rainbow Six Siege. As for the fans, G2 has an online shop where they can browse for various accessories, hardware, tops, and bottoms.
Betway
On the other side, Betway is one of the most reputable online gambling groups in the world. The Betway Group includes Betway Casino, Betway Sportsbook, Betway Esports, and Betway Vegas. It was founded in 2006 and apart from providing people from all around the world with the best online gambling services, including betting on sports, it is also known for sponsoring various teams. As of 2021, Betway is the largest active sponsor in the UK in horse racing.
Apart from that, it has sponsored several teams in football, NBA, NHL, snooker, cricket, and esports. Some of the most notable sponsorships of this brand are the Chicago Bulls, Tottenham Hotspur, Leicester City, Werder Bremen, LA Clippers, and the Golden State Warriors.
The recent partnership with G2 is a win-win situation as Betway will continue to provide its players with the best services on the market, while G2 will have a bigger platform through which it will be able to market itself and reach new levels of popularity.
To use the gambling services at Betway, players are required to register. They can do that by filling out an online application form. Once the form is sent, they will be asked to verify their identity. Finally, it is worth mentioning that Betway holds the Guinness record for the highest jackpot ever paid out – $20,062,600. Read Review of Betway Casino